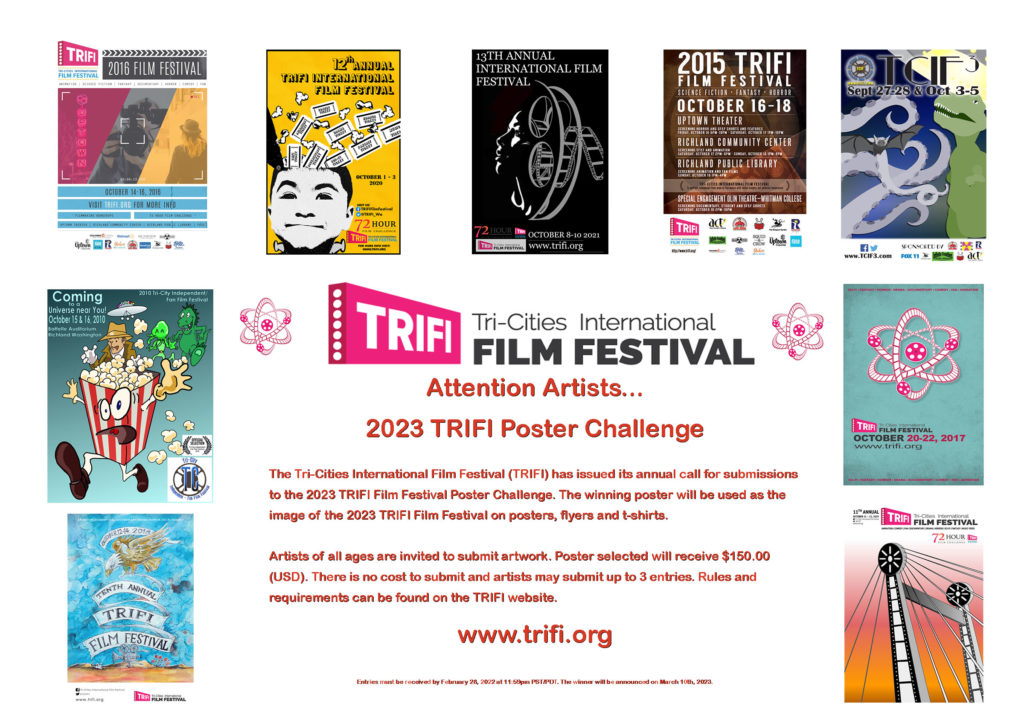 The Tri-Cities International Film Festival (TRIFI) has issued its annual call for submissions to the 2023 TRIFI Film Festival Poster Challenge. The winning poster will be used as the image of the 2023 TRIFI Film Festival on posters, flyers and promotional items.
TRIFI uses local artists to encourage interaction between the various community artists and arts organizations.
Artists of all ages are invited to submit artwork. Poster selected will receive $150.00 (USD). There is no cost to submit and artists may submit up to 3 entries. Rules and requirements can be found below.
Entries must be received by February 28, 2023 at 11:59pm PST/PDT. The winner will be announced on March 10th, 2023.
RULES
Be sure to read the RULES thoroughly and completely before submitting an entry as no exceptions will be made for misunderstandings.
By submitting, the artist affirms that the poster design is original work and does not infringe upon the copyright of any other artist or work. The artist also affirms that any elements used in the design are either original or used by permission.
The poster must be submitted online via the link found at the end of these RULES.
Artists may submit more than one design, but must do so via separate entries and must fill out separate submission forms. The deadline for all submissions to be received by the TRIFI Film Festival is February 28, 2023 at 11:59pm PST/PDT. There is no cost for submitting a poster design.
The poster design(s) that will be used to promote the TRIFI Film Festival will be chosen by a selection committee, and the designer(s) will be notified by March 10, 2023. Feedback will not be provided regarding designs that are not used. The designer of the final design will be given $150.00 USD by the TRIFI Film Festival.
Technical requirements:
File formats: PNG, or JPG
Dimensions: 11 x 17 inches (28 x 43 cm)
Colors: 1, 2, or 3 (maximum of 3)
Resolution: 600 dpi
File size: < 400MB
Winning artist will provide 2 additional file sizes within 7 days of notification (all at 600 dpi resolution):
8 x 10 inches (20.3 x 25.4 cm);
4 x 6 inches (10.2 x 15.2 cm)
TERMS & CONDITIONS
I/We will indemnify and hold harmless the TRIFI Film Festival, its sponsors and partners, individually and collectively, from and against all claims, demands, losses, damages, costs, liabilities, and expenses, including legal expenses arising out of or in connection with any and all claims, or third party claims, based on material submitted to the TRIFI Film Festival. I/We also certify that I/we hold all necessary rights for the submission of this poster design. The TRIFI Film Festival hereby has my permission to use my name, poster design, photos, and press material for TRIFI Film Festival promotion and items.
Entry Form